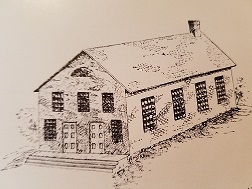 During a Methodist meeting in Harvard 1789, Mr. Phineas Sawyer was converted by the persuasive preaching of George Pickering, one of the greatest early Methodist circuit riders in New England. Soon after this Mr. Sawyer moved to the "Mill Section" and established a mill on the site of the present armory, and in 1800 opened his house, on what is now Washington Street, to Methodist preaching. Later the mill itself was used for this purpose.
Methodism was looked upon as a peculiar sect and met with considerable persecution. Mr. Sawyer's death in 1820 was a great blow to the struggling society. However, the faithful few continued to meet and on March 21, 1821, were organized into the "First Methodist Religious Society."
The first meetings were held at the home of Lewis Jewell, located on what is now Lewis Street. In 1828 a brick meeting house was completed on "Gospel Hill", located in the eastern part of Hudson. The land had been given by Mr. Jewell.
Music found a prominent place in worship during those early days. Solomon Weeks was the chorister for 40 years, and it is said that he made two beats of the measure, no matter what the correct time of the piece was.
On December 27, 1852, it was voted "to repair the meeting house" and on January 6, 1853, it was voted "to reconsider the motion to repair the meeting house, on account of the meeting house being burned." This disaster had taken place the night of December 28, just after the previous meeting. No one knows how the building caught fire, which may be a good thing.The congregation proceeded to build a sanctuary in Rock Bottom and the residents of Hudson continued to worship with their brethern there until 1863. The Hudson society built their own church. The church was located on Main Street and was somewhat ornate in a style popular in the day. This church burned in 1911 and the present more adequate and good-looking structure was built, the dedication being on June 15, 1912.
This history was written by Rev. Newell S. Booth on the anniversary of 150 years of Methodism in the area.